The story about the rescue of Dr Vojtech Spanyol, who was helped during the second world war by Robert Kucharik and Jaroslav Loula.
Robert and Sidonia
Sidonia and Robert Kucharik got married at the beginning of the 1930's. Robert was one of six children and Sidonia one of ten, and because she was the eldest from the family, she had to look after her younger siblings. After the wedding, the young couple built their house near the woods in Kysucke Nove Mesto and decided that they would have only one child. They worked in Sloven in Zilina. Robert worked in storage with sacks of cotton and his wife was making carpets. After six years of marriage, their daughter Maria was born in 1936. In those days, women only stayed at home for six weeks after having a baby, so therefore every morning Maria's parents left her with her grandparents, who lived ten minutes away from their house. It was always very early in the morning so that they would be on time for work.
Maria
"Each morning, mum dropped me off at my grandparents barn, and when my grandfather heard me crying, he came to pick me up: 'My dearest, are you here on your own again?' my grandfather said, and then took care of me," remembered Maria, the daughter of Robert and Sidonia. When the rest of the children woke up (who were sisters of her mum), they would play with her. The girls who were her aunties, were six and eight years old at that time. She stayed with her grandparents up until she was six years old. They looked after her very well. Every evening Maria's parents picked her up on the way home from work.
Citrona, Hapacha and Zuza
When Maria started school, she was given the key from the house to lock it and unlock it. She had to learn to wake up on her own in the morning and breakfast was ready for her on the table. She then had to walk to school on her own. "It wasn't the same as today when parents drop off their children by car and also pick them up, and we didn't have any clubs in the afternoon," remembered Maria. "There were three girls on our street and each one of us was on our own in the afternoons. Each of us had a goat and they were our friends," remembers Maria, with laughter about her childhood. "We used to go to the field with our goats together so that they could graze. My goat's name was Citrona, the others were Hapacha and Zuza. We had quite a good time together." In the afternoons the girls were running in the meadow while the goats were grazing. The girls always had lots of milk and even Maria could milk the goat
Jaroslav Loula
"I noticed that there was one man who always came to see my father. His name was Jaroslav Loula. My father called him Jaro. He was also working in Sloven, where the director at that time was Mr Gescheid. Mr Loula chose my father as a very responsible worker and asked him for a favour," remembers Maria. Mr Kucharik was very reliable in everything, he didn't drink, he didn't smoke and you could always turn to him for help. As he was in charge of the storage of cotton, where there were very large sacks, he agreed to the favour for Mr Loula. In the storage he hid a Jew who was very important for Zilina. It was Dr Vojtech Spanyol who later had a street and hospital named after him. Mr Kuharik did not know him at all, but Mr Loula asked him for this favour. As he was a good friend with Mr Kucharik, he used to say to him, "Robko, if you do this for me you will help me very much." Mr Loula and his wife didn't have any children and they lived in the company flat in Zilina. They used to visit the Kucharik family. It was a really nice friendship between these two couples. They always brought nice chocolate for Maria which was not usual in those days as she wouldn't get chocolate from anyone else. "He always used stroke me on the head and say, 'Dear girl, your life will be different than your fathers.'"
Vojtech Spanyol
Maria noticed that each morning her mother was preparing two 1 litre bottles of coffee – melta (that was the only coffee available in those days), a chunk of bacon and 2 slices of bread. The bread was baked at home and it kept disappearing very quickly. "I thought to myself that my father must be eating a lot." Maria was asking her mother why she was giving so much food to her father and she answered that her father is working so much that he needs to eat a lot. "Despite all that, I couldn't understand why my mother was baking 2 or 3 loaves of bread when there was just the three of us," remembers Maria. In those days, Maria didn't know what her father was doing, she found out about it after the war.
Storage house for cotton
Maria only knew about the storage house where her father worked through what was talked about at home. Apparently, it was very big and the sacks of cotton that her father was in charge of were about 1 metre X 50 cm large. Mr Kucharik made a hiding place for Mr Spanyol a good distance from the door, behind lots of sacks so that he could sleep and sit there comfortably. So that Mr Kucharik could get to work first, he started his 1-hour journey at 4am and walked 10km from Kysucke Nove Mesto to Zilina. He had to arrive before all of the people who travelled by train. When he arrived, he had to empty the bucket that Mr Spanyol used as his toilet, air the place so he could have fresh air, get fresh water for him to wash and even rearrange the sacks to keep him hidden. Mr Kucharik had to do all this before the other workers came to work. During the day, some of the sacks were used in production. It wasn't just Mr Kucharik who took the sacks so he gave strict instructions to his workers about which cotton they should use and which one they shouldn't touch. Mr Spanyol was always hiding in a safe place where none of the workers were allowed to go.
Tragedy
The German Gestapo started to suspect that Mr Loula was hiding Jews. They kept interrogating him and he was really scared of being imprisoned and tortured. He was worried that in a difficult situation, he might give up Mr Kucharik and suddenly he disappeared. The Kucharik family tried to look for him without any luck. In the end, after sometime, some passers-by found him hanging on a tree near Vranie. During the second world war, Vranie was a little village but today it is part of Zilina. "So, he wouldn't give up those he loved, he took his own life instead," said Maria. "My father and mother cried and his wife used to come and visit us. She didn't have any close family and in a short time left for Morava."
Nazis
The Kucharik family lived in a house near the woods. "In every corner there were Germans, I remember that much, they always shouted 'Fujtajfl', which meant that their feet were hurting and they were cold. They took all of our duvets, blankets and beds." Some of them were too tired and some went to fight during the day. Just across from the back yard they were in the woods where they looked for partisans. Mrs Kucharik used to do coffee-melta and tea for them because they were always cold.  House – It was only one bedroom, a kitchen and a long corridor which was also used for storage. In the corridor there were wardrobes and a ladder which led into the attic and also one to the basement. On the trap door to the basement, there was a rug and from the corridor there were two doors in to the garden. The family stayed living in the house, in the basement. During the time while the Germans were in their house, Maria had to sleep on sacks full of potatoes. "They put the potatoes near a small window for me and I was covered with my father's coat which was a Hubertus." Mr Kucharik slept on the floor with other solders around him and his wife slept on a chair in the basement near her daughter. Maria remembers that this arrangement happened for a long time and she slept in the basement on the potatoes all winter.
Russians
When the Russian soldiers were approaching, Mr Kucharik told the Germans that they were coming by imitating the sound of a machine gun, "R t t t t…..". After that he took them through the garden back into the woods including those soldiers who were injured and limping. Then the Russians came. There was about ten of them. They stayed more outside than in the house and they also had horses. One day the captain came and asked Mr Kucharik, "Where is Fritz?" He took him to the woods on the hill called Majtanky and afterwards we heard terrible shooting. Maria's father knew those woods very well and he knew how to get home safely. On the next day in the morning, the captain returned to the house and asked if the man of the household was at home. Somehow, he managed to find out that Germans had been living in his house before. He stood Mr Kucharik against the wall and wanted to shoot him. When little Maria saw that, she threw herself at the captain's feet and begged for her daddy's life. "Let me have my father I begged. I can still picture that today," remembers Maria. Even during that time, Mr Kucharik went to work but Mrs Kucharik stayed at home. A bad thing was that the German soldiers removed some of the railway line which meant the trains could not run. This meant many people were unable to get to work.
Saved
Mr Kucharik was hiding Mr Spanyol up until the German soldiers left. Then, after that, Dr Spanyol became the leading optician in the hospital in Zilina. "He called my dad, "Robko," because he knew what his name was and that he took care of him very well."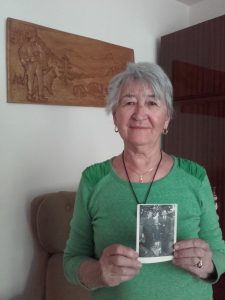 Maria only learned about her father's brave actions when she went to school in Martin. After the war, Mr Kucharik very often said how glad he was to have helped Mr Spanyol and that everything had turned out well. "He would give his heart to everyone. If mum didn't look after the money, he would lend to everyone who was in need. He had a very kind heart and loved to help everyone. I value very much what he did for Mr Spanyol. We all should help each other the same way," said Maria Holesova. "I can still remember how Mr Loula used to stroke my hair. He was the only person who would bring me chocolate," When I am going through Vranie village, I always remember which tree he ended his life on . . ." The biggest wish of Maria Holesova is that there is no war ever again,  "So people make more effort, and also our politicians do not argue between themselves, but do everything to keep the peace. So, our planet is kept well and looked after enabling us to live happily together. The older I get, the more I value each day of my life," said Maria.
Translation:  Lenka and John Knight