The story of Eva Hatalová, who, as a widow with five children, saved the Marchfeld family and Dezider Löwy.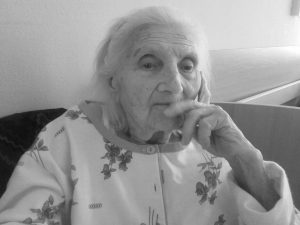 The Firstborn
Jozefína Aksamítová was born in Chorvátsky Grob (Slovakia) in August 1927 as the first child of Eva (1908) and Jozef (1903) Hatala. Since she was the firstborn, her father wanted her to be named after him: Josephine. The grandmother, however, wished for a granddaughter named Maria. In those days, babies were baptized right after birth, and since her godmother was Maria, the little girl was named after her. "So they called me Mara – in the neighbourhood, on the streets, at home. However, for the school, they registered me with the official name," recalls Jozefína. "The whole village called her Marka and that's the name she was known by," Igor Aksamít, son of Jozefína says.
Mrs. Hatalová gave birth to eight children, three of them died. "I used to visit the cemetery, taking flowers," recalls Jozefína. She remembers the names of two sisters: Klara and Beth.

New House in Seclusion
The Hatalas built their own house on their land. The house was far from other houses, it was an area where no one had built yet, perhaps only three houses were nearby. Allegedly, people gathered building material for their construction from Count Esterhazy. But Mr. Hatala also worked in the renown Dynamitka factory.
It was a tiny house with one bedroom for everyone to sleep in and a kitchen next to it. When they began to rear a pig, Mr. Hatala built a pantry and a smokehouse. The meat was salted and smoked.
The family's livelihood was what they had grown. Everyone inherited a piece of land, a personal plot, and the Hatalas planted there potatoes, beans, and maize for the pig that had been killed later, "lard and bacon was rendered", there was grizzle, baked biscuits, and they had also something for the chickens. They baked flatbreads and the reared geese provided grease to use for baking, cooking, and also for greasing "slice'o'bread". "When we baked, the flatbreads were also baked. And four breads. And for the four small loaves, papa weaved a basket too," Jozefína recalls her childhood years.
Father's Death
In 1941, a tragic event struck the family. The father and the husband of Eva, Jozef Hatala, died. "I still remember he came home from work," recalls Mrs. Aksamítová. "I know we were in the church, at some litany and when we were returning home, one lady whose goose flock I used to herd, was walking by and told me that my father was very poorly and that they called a doctor for him. And I met the doctor leaving our house. By the time I made it home, he died."
Two to three days later, his father died. It was a huge tragedy for the family. Mrs. Hatalová was in the hospital at the time with the youngest son, Kamil, who was sick.
"Daddy was neither short nor tall. He was very good to us. Even when we trampled his garden, he would never hit us." That's how Jozefína remembers her father Jozef Hatala.
A Widow
And so Eva Hatalová became a widow with five children: Jozefína, Ondrej, Jozef, Ružena and Kamil. After her husband's death, she had to start working. She got a job with masons. It was the Peterajs and they were constructing new buildings. She carried buckets of mortar, sand, gravel, whatever was needed. She was a strong and very hardworking woman. As the eldest, Jozefína helped to raise the siblings and worked with her mother at farmers' house where they got hired. "Our mothers were working for farmers and thus made a living," says Jozefína's step-sister, Mrs. Bernardína Jendeková. Most of the time, you only worked for soup back then. "When she was angry, she would say, we only worked for soup and I had nothing to feed the children with," recalls Iveta Gašparovičová, granddaughter of Eva Hatalová. "Grandmother worked in the fields and the kids had to help each other. As the first boy, Ondrej was the only one in the family who was able to study, all of us worked to cover his tuition. He became a doctor and director of the hospital in Topoľčany."

Childhood
"As children we would fight each other when someone got a bigger slice of bread. We tried to steal it from the other and when there was nothing left, we would fight. But on the other hand, we also played together. Those little round balls. They would be thrown on the ground and we said "veli, veli šic", we made a small hole, and then we clapped if someone aimed into it."
Jozefína first went to school in Chorvátsky Grob, later in Bernolákovo. There she attended the city school. "Then came the Hungarians and they kicked us out," Jozefína recalls. So she had to return to Grob because Bernolákovo was occupied by the Hungarians. "But not for long. When the frontal defence progressed, they drove them out again."
Once Jozefína could go to work, she immediately found employment to help her mother. She started working in a cable factory.
"I don't know what we did there," she contemplates. Her face suddenly brightens and she says, "We were charging shells, yes shells, you see, I remembered. There was still a war. Because it was shells made there in the factory, in Dynamitka…. Shells."
War
"We were hiding everything. We were afraid when those soldiers came that they would take it. That tomorrow we will
not have anything to take in our mouths." That's how Jozefína remembers the arrival of the soldiers. "Coffee or milk. Goat milk. Right, we had a goat, to have milk. The goat even had four kids once! At once. But they were tiny little kids, I carried them in my arms and stroked them. And I played with them. Tiny as dolls. Four at once! I don't know if you can imagine a goat…" Mrs. Aksamítová gradually recalls memories of childhood in her mind.
"Čierna Voda was being dug, that is flowing. Čierna Voda that flows behind Vajnory. It was dug by the workers from the village and the surrounding area, and then the Jews arrived, they also dug there. But once the water was running, they began to deport the Jews," Jozefína remembers it this way.
1944
"Around mid-October 1944, in late evening hours, Miloš Zeman and Ján Borovský, local residents, brought to us a family of Jewish origin, unknown to us at the time, in order to hide them for an indefinite time. It was the family of Mr. Marchfeld and his wife with their probably 5-6 year old daughter, and Mrs. Marchfeld's brother, Dezider Löwy from Piešťany who was about 30-years-old and single."
Jozefína remembers that they were from Malacky. They called the little girl Márika. So she called her that as well.
"They mentioned some canals and leading them at night. Some guy was with those Jews, I don't know who that was," Jozefína's niece, Iveta Gašparovičová, vouches for her memories, as she was told about the war by her grandmother, Eva Hatalová. "I don't remember his name. As a kid, I thought grandma was telling only a story anyway. But this I know for sure that it happened."
At first they were likely in the storehouse so nobody would see them. They slept on a "strožoch" /old mattress/ filled with sawdust. At night, they could also climb up the attic where the Hatalas stored grain, beans. The storehouse was not spacious. There was one brick oven built, a stove for baking bread. "Mummy baked four breads to last us a week. When the Germans were returning, they nosed around everywhere. Where the smoke is, what is happening, they would be in the yard right away." Mrs. Hatalová emptied out the toilet in buckets. The hiding Jews could not come out, except at night, so no one would see them. "Our plot was leading down outwards from the village. They felt more assured there that no one could see them. And since they dug the water to draw into Danube, the Jews knew the area and knew how far was safe to go."
Everything had to be shut, including the gate, so that no one got further than the gate. When needed, they called out from the street.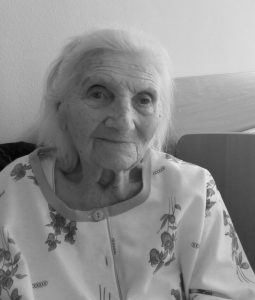 "Our family lived outside the village. We didn't even have electricity. We lived in only two rooms. Bedroom and kitchen. Mom put the family in the bedroom and I spent the whole time staying at the mother-in-law's of Mr. Borovsky's who brought them to us. The other siblings and mum slept in the kitchen where they also spent most of their days."
Though there were two windows in the bedroom, the persecuted hiding family lived in it, and no one was afraid. Since the house was outside the village, its inhabitants always saw if someone was approaching.
Hide-out in Vajnory
"Mum traveled to Vajnory, where the Jews were staying before, because they left some money," Jozefína says. Her mom brought it in small sums to buy food. "They had the money, they just couldn't go anywhere with it. Into public." So Mrs. Hatalová went to the family where the Marchfelds stayed before, and always brought money to buy food. Thus she sustained not only the persecuted Jews, but also her children. They helped each other.
"Grandma mentioned the Tutors were also helping them, aunt Marcinka gave them beans to cook, because Grandma was a widow with five children, so they didn't have loads," Iveta says. "We were doing better, too," Mrs. Aksamítová evaluates the war period. "We also needed help so we would not die of hunger."
The Gypsy
"They could only venture into fresh air at night, though with fear that no one would spot them. And yet it happened. Nearby, maybe 400-500 meters from our home lived a local gypsy family. One Sunday afternoon the wife – searching for her husband, who fled into a pub – came by our home and as she peeked in, spotted one of our guests. I was reading in our kitchen and suddenly, as she walked in and straight into the bedroom, I had to stop her. Of course she resisted. Luckily, I was stronger so I kicked her out forcefully, which she repaid. She screamed that her husband was locked up in our home."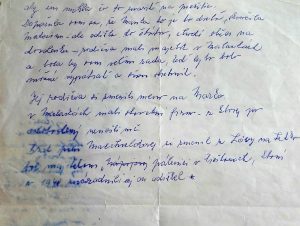 Márika
Jozefína recalls that she and Márika played with dolls, they made mud pies, most often in the barn yard so as to not be seen. Jozefa's younger sister Ruženka was closer in age to Márika. "We had strict rules about being seen together. If anyone had seen us and asked who was playing with me, I was to tell them it was my younger sister. That's it. I know I liked her as my true sister."
Germans
The Germans were only passing through Chorvátsky Grob. There was no battle here. Everything was being hidden though so nothing would be in the open. "Mum always came with fear, because she would not only lose possessions and money, but also us, her family."
Mrs. Hatalová told her granddaughter, Iveta Gašparovičová, that Germans had also come into her house. "I remember all this as grandmother told the story about hiding them in the dung (manure). The little one, when the Germans came, had been given a head scarf, because she was big-nosed. They had a ditch dug in the manure and covered it by straw, and when the Germans came, the Jews were hidden in manure. They nailed them in. A German came inside with a machine gun, walking around the room, not finding them, these Jews. The Germans were in the yard! The Germans were simply in the yard and the Jews were in the dung. I was shocked saying, grandma, didn't you worry that those Germans would shoot you? But those Germans came so quick that they didn't even know how. And she hid the little one behind the closet."
Another dangerous situation occurred when Jozefína's brother found a watch and a German soldier came to get it there. But this was without any conflicts. "Grandma said the Germans were running. They came, rummaged through, took what food and drink they saw and ran away. The Russians were driving them out."
"The Russians came and one picked me up, danced and played the accordion," Bernardína says about that period.
Watch
The Marchfelds stayed at Mrs. Hatalová's until the end of war. When they were leaving, they gifted them as a thank-you an Ogiwa brand Swiss watch. Mrs. Hatalová put the watch in the oven, probably afraid someone might steal it. She forgot about it, and then used the furnace before she remembered. The watch has been preserved and is functional today.
Dezider Löwy
According to the website of The Nation's Memory Institute, where we find all the businesses confiscated from Jews, Dezider Löwy was producing destilled alcohol with his brother in Piešťany. Dezider, who survived the war thanks to Mrs. Hatalová, offered her oldest daughter Jozefína Aksamítová a job. "They have confiscated it before from them and later they returned it. They were selling spirits there. And the fruit from the surrounding villages was bought also. We gave money, I wrote a ticket, how much it was, what it cost. Even a few crowns," says Jozefína about her job.
Mr Löwy was single and asked Jozefína, "Marienka, Marka, I know I am old for you, but I will ask you still, would you like to marry me?" "I started laughing," says Jozefína. "Mr. Löwy could have been 30-35 years old." In those times, he was a bachelor. "So you didn't want to marry him?" I ask. "No, no no," she says, shaking her head vigorously.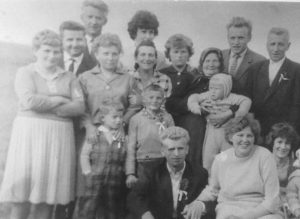 The Second Marriage of Eva Hatala
Mrs. Hatalová did not remain alone with her five children. She married Mr. Jurkovič. He had Bernardína and Joseph from his first marriage. Then he married a widow who had a daughter, Otilia, and they had a son, Emil, together. In his third marriage, he married Mrs. Hatalová, who had five children and together they had two more. Otilia was later raised by her godmother. So the Jurkovič family had ten children altogether, some of them being adults by then, of course.
News of the rescued lives
Márika finished university and visited Mrs. Hatalová a couple of times. But they had all left. "I heard that Márika, the child who was hiding at our house, finished medicine and left for the USA. She takes holidays occasionally. I would be so happy if it was possible to find her and meet her again. Her parents changed their last name to Marko after the war. They had a construction company in Malacky, but they found none of it after the liberation. Mrs. Marchfeld's brother, who changed his name from Löwy to Letko, left in 1948, after his business was nationalized."
The Ninties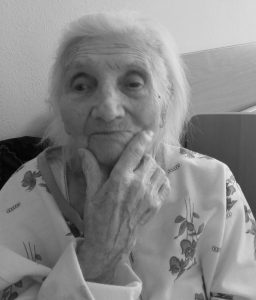 Mrs. Aksamítová recognized Márika, she had to see her somewhere. It was probably in the 1990s. She came likely toSlovakia as a doctor for a congress. "She was doing something here, but whether she stayed, I don't know," says Iveta Gašparovičová. "In some medical chamber, she's apparently a big boss." And so, contact between the rescuers' family and the rescued and their offspring has ceased now.
"It was dangerous, we really risked our lives. We are Christians – Catholics, we believe in one God, so why would we do that to those people, on our own will … when we believe in one God. After all, He is above us all. He will judge us for what we do. And those who have done such evil to them, too. Who, tell me who will bear the fault for the war!" Jozefína Aksamítová.
"There was very little talk in the family about the events that took place during war. Mother was a woman of action. She worked, worked, worked. She rarely stopped to reminisce. Such reflection came only when she was retired and her long-term memory began to refresh. She began to remember what was, how it was, only now I discovered her handwritten testimony. It deserves to be honored, because I do not know if we could encounter such a thing today anymore. In a way, it is extremely respectable heroism on their part. Considering the conditions that surrounded them, the limited survival opportunities in terms of eating, sustainability, there were five hungry mouths to feed! I can't quite imagine it, but full marks to them. This is difficult to even consider today." Igor Aksamít
"Considering that she was alone, she had real courage. Five children to care for and hiding strangers…. Hats off." Iveta Gašparovičová
"I've always been afraid since we started hiding the Jews that they would be discovered. And what would be with my family … But when it came to doing something for another, I was always willing to do it in the end."
Jozefína Aksamítová worked for a long time as a midwife and many babies passed through her hands.
Víťazoslav Siegfried Marchfeld was a civil engineer and co-owner of the distillery in Holíč. He changed his name to Marko and he died in 1963. He is buried in a neologic cemetery in Bratislava. We do not have anymore information about others that were rescued.
(c)Dagmar Mozolová
Translation: Anna Armitage